Balance Performance Greens contains a concentrated blend of 7 nutrient rich superfood ingredients to support vitality. This superior tasting blend also combines Glutamine, Digestive Enzymes, Probiotic and Prebiotic Fibre to aid digestion and support natural cleansing.
BENEFITS
Nutritious greens blend to support health and wellbeing
Added Pre & Probiotics
Added Digestive Enzymes
Added Glutamine
Vegan Friendly
Formulated without Gluten: Suitable for those with Gluten intolerance
No artificial flavours, colours, preservatives or sweeteners.
WHO, WHEN & HOW?
WHO
Athletes and bodybuilders seeking to support their wellbeing and digestive health.
WHEN
Any time before or after exercise.
HOW
Add 10g (2 level scoops) to 200mL of water or juice. Shake or blend until mixed and serve.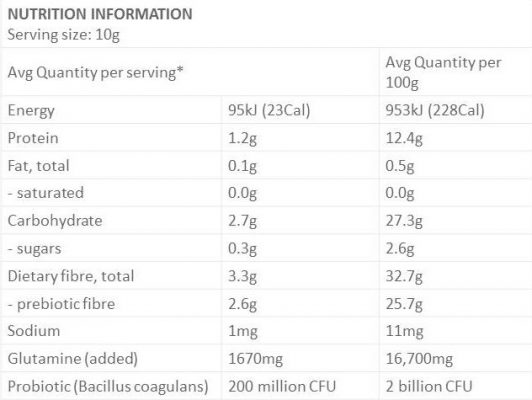 INGREDIENTS
Balance Performance Greens Blend (50%) [Spirulina, Brocolli, Spinach, Kale, Chlorella, Barley Grass, Wheat Grass], Prebiotic Fibre (Corn Fibre, Chicory Root Fibre), Glutamine, Natural Flavour, Digestive Enzymes 0.4% (Bromelain, Papain), Probiotic (Bacillus coagulans), Natural Sweetener (Thaumatin).