Balance Plant Protein is a natural and vegan friendly smooth blend of pea protein, organic brown rice protein concentrate, chia protein and sacha inchi powder. With the inclusion of essential BCAAs, glutamine and digestive enzymes, this superior tasting protein blend is scientifically developed to enhance your sports nutrition needs.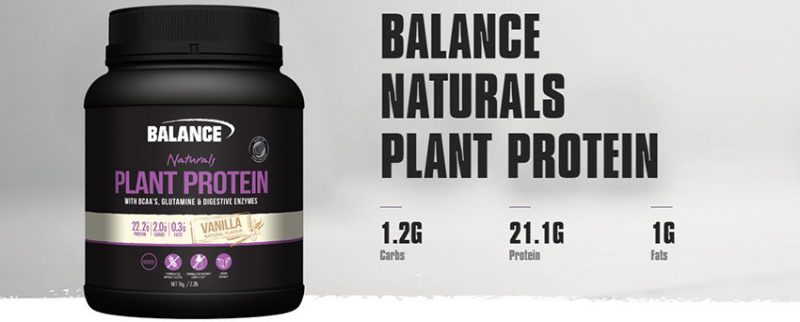 BENEFITS
Vegan Friendly, 100% plant based protein source
Formulated without Dairy & Soy*- an alternative protein source for those with dairy and soy intolerances
Formulated without Gluten- suitable for gluten intolerant
Nothing artificial- no artificial flavours, preservatives or sweeteners
Digestive Enzymes for optimised protein digestion
Full Amino Acid profile- added BCAAs at 2:1:1 ratio (L- Leucine, L- Isoleucine, L- Valine). Contains a full complement of muscle feeding amino acids including glutamine
WHO, WHEN & HOW?
WHO
Weight-training individuals and body builders, tri- and team sports competitors, weight and carb conscious individuals.
WHEN
Use 60-90 minutes prior to exercise and within 30 minutes after exercise.
HOW
Add 30g (1 level scoop) to 350mL of water or other beverage. Shake or blend until mixed and serve. May also be added to other foods to increase protein content. For a low carb drink, mix with water.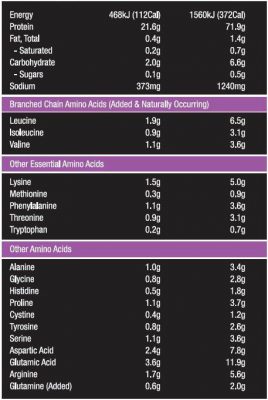 INGREDIENTS
Balance Plant Protein Blend (93%) [Pea Protein Isolate, Organic Brown Rice Protein Concentrate, Chia Protein Powder, Sacha Inchi Powder], Amino Acids [L-Glutamine (2%), BCAAs (1%)(L-Leucine, L-Isoleucine, L-Valine)], Natural Flavours, Salt, Enzymes (0.4%) (Bromelain, Papain), Natural Sweeteners (Steviol Glycosides, Thaumatin).