Dymatize Elite XT – Extended Release ProteinKnowing that protein helps repair muscles and fuels the body throughout the day, Dymatize wanted to develop a product that took recovery to the next level, one that would revolutionize the protein category.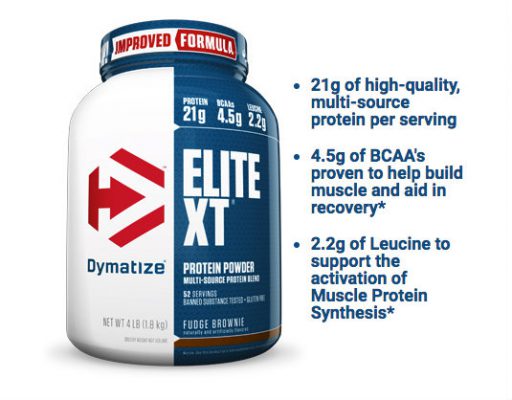 Dymatize research has shown no single existing natural protein source is ideal for achieving extended release anabolic effects. We have found the optimal source is a fusion of several different protein sources, including the addition of free form branch chain amino acids and other free form amino acids. Milk derived proteins, including Micellar Casein and Whey protein concentrates, form the base of Dymatize Elite XT.
Dymatize Elite XT also features Nutrateric® to help provide an extended time release of protein. This coating system is designed to help provide a prolonged delivery so your muscles get the protein they need, when they need it most.
DIRECTIONS:  
Add 1 level scoop to 10 ounces of water, milk, or juice. Stir, shake, or blend for 20 seconds or until completely dispersed, then drink immediately.