Balance 100% Whey Protein is a synergistic blend of whey protein isolate whey protein concentrate and pre-digested lactalbumen to provide a technically advanced complete protein source.
Balance 100% Whey Protein has been formulated to provide the full range of amino acids needed to promote an anabolic environment for muscle growth. Maximum levels of valuable whey protein fractions including glycomacropeptides-lactalbumen and-lactoglobulin provide a huge 23g of Branch Chain Amino Acids per 100g of protein.
This formula provides aminos in a logical sequence to maximise utilisation and minimise waste. This is reflected in the amino acid ratios which are in perfect proportions to provide effective protein utilisation for muscle growth and repair.
Extra Glutamine and Arginine
have been added to enhance the amino acid profile and provide an optimum level of the critical cluster amino acids. Glutamine is especially beneficial for muscle maintenance and improved recovery while Arginine plays a key role in the release of anabolic hormones to promote muscle growth.
Other lean protein powders just don't stack up when compared to Balance 100% Whey Protein !!
Mode of Action
100% Whey Protein is a combination of Balance Whey Protein Isolate a highly purified form of Whey Protein together with Whey Protein Concentrate and enzymatically predigested Hydrolysed Whey plus the addition of L-Glutamine and L-Arginine.
Whey Protein is the soluble protein of milk and in combination with L-Glutamine and L-Arginine it provides a ratio of the important peptides derived from the functional elements of Whey plus the specific growth hormone releasing properties of Arginine and Glutamine.
This combination provides easy absorption and utilisation of the protein complexes derived from whey proteins that includes Alpha and Beta Lactoglobulins and Immunoglobulins plus specific support from the added amino acids to help maximise the body's own anabolic function for growth and muscle development.
Indications
Promotes lean muscle tissue development.
Supports immune function.
Special Benefits
Every batch is extensively tested by an independent laboratory and by our internal laboratory under the strictest Quality Control procedures.
Balance 100% Whey Protein is manufactured using a low temperature controlled process that provides quality protein. Balance Naturals 100% Whey Protein contains a high concentration of BCAA (Branch Chain Amino Acids) and the full range of amino acids as free form di tri and polypeptides.
QUALITY SEAL is your guarantee of quality supplements. This quality seal means the products produced comply with GMP (Good Manufacturing Practice) guidelines in a GMP licensed manufacturing facility.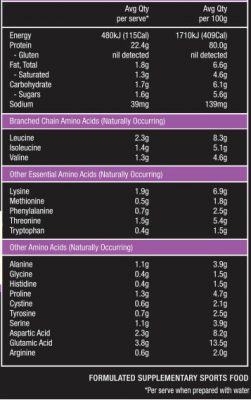 INGREDIENTS – Vanilla flavour: Balance Proprietary Protein Blend (99%) [Whey Protein Concentrate, Whey Protein Isolate, Emulsifier (Soy or Sunflower Lecithin)], Natural Flavours, Sweetener (Steviol Glycosides). Contains: Milk and Soy Products.
Recommended Use
Add 30g or 2 level scoops to 1 glass of water non-fat milk or a beverage of your choice. Stir or blend until mixed. Alternatively add a serving to other foods fruits cereals etc to increase the protein quality and content of these foods.
Precautions / Contra-indications
Those with established milk allergies should seek professional advise before using any protein derived from milk.
Gluten and wheat free!