Nutraviva NesProteins Beef Collagen (Collagen Hydrolysate) contains a unique combination of 20 individual amino acids, including eight out of the nine essential amino acids not produced by the human body and essential for healthy life. Hydrolysed Collagen is rich in hydroxy proteins, along with the amino acids Glycine and Proline and account for nearly half of collagen hydrolysates's amino acid profile. These amino acids are primarily responsible for collagen production in the body.
This product is great for muscles, fibrous tissue repair and recovery after exercise. Due to it's high bio availability only 12g per serve is required for optimal absorption and effective results!
The low molecular weight of hydrolysed collagen powder allows for great bio availability. This product will not gel and has been hydrolysed for quick absorption.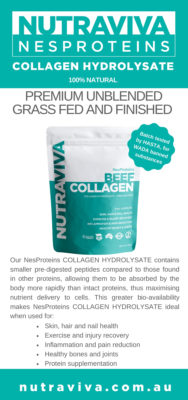 Benefits include the Repair of:
Joints, Cartilage, Tendons, Ligaments, Bones, Muscles, Hair, Skin, Nails and Gut
This truly an amazing product is also ideal for treating and reducing the severity of all levels of arthritis
0 Fat, 0 Carbs and 0 Sugar are other great benefit of this amazing product
Directions
Add 12 grams of dry powder into a shaker, then add hot or cold water, juice or milk as part of your favourite beverage, and stir thoroughly until dissolved. Let stand for 30 seconds and enjoy.
Ingredients
Grass Fed Pasture-Raised Bovine Hide Collagen Peptides
Does not contain: Gluten, dairy, egg, peanut, fish, soy, shellfish, wheat, yeast, fillers, binders, preservatives or artificial ingredients