ATP Science Gutright is a revolutionary gut health supplement designed & formulated to promote healthy gut bacteria, the benefits of which are numerous & include weight loss, reduced body inflammation & overall health & well being. Get your GUT RIGHT.
Product Highlights
– Contains natural plyphenol modbiotics
– Modulates gut bug ratios
– Supports the immune system
– Prevents & corrects fatigue disorders
– Improves physical & mental performance
Known as the Herxheimer reaction. GutRight is designed to create a "kill off" phase of bad bacteria in your gut. What to expect whilst this is happening? The following guide explains this to you;
Day 1-3
In most cases, individuals with an abundance of Firmicutes in this phase will experience gastrointestinal gas build up and by-product creation to the reactions your body is experiencing. Excessive flatulence and stool movements with a noticeably strong odour may occur. This is normal and will pass, however, due to the 'die off' reaction you may experience, this is unfortunately unavoidable in some cases on your way to health.
Day 3-7
At this point in time, your body is experiencing the greatest accumulation and removal of bacteria, which may result in both an increase in the quantity of waste removal, as well as an increase in frequency. Excessive visits to the toilet may be experienced and you may also notice a significant increase in waste content.
Day 7-10
Now that the majority of bad bacteria has been removed, you should begin to notice all the aforementioned side effects begin to diminish. Here is where you will experience the greatest sense of gut relief and your digestion and bowel movements will begin to regulate.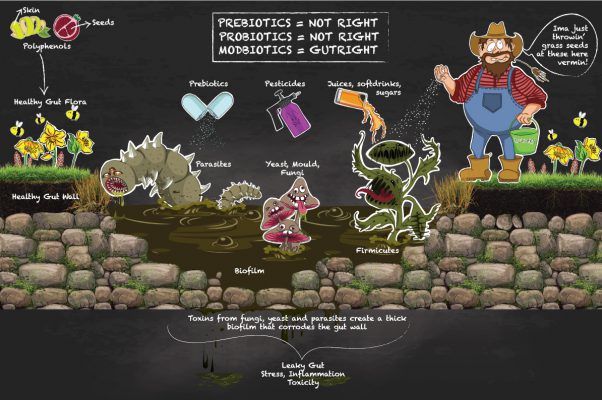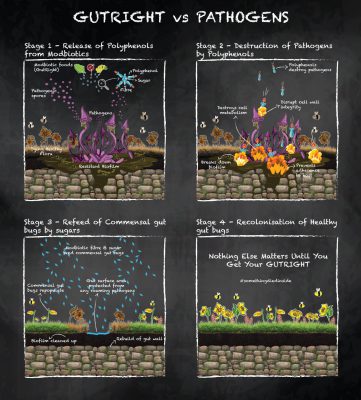 Nutritional Info
ATP Science Gutright Serving Size Serving Per Container
5g 30
Nutritional Info Per Serve Per 100g
Energy 72kJ
17.2Cal 1440kJ
344Cal
Protein 0.46g 9.2g
Fats – Total <0.1g 1.9g
– Saturated <0.1g 0.9g
Carbohydrates – Total 3.1g 63g
– Sugars 0.8g 17g
Dietary Fibre 0.9g 17.9g
Sodium 2.5mg 51mg
Other Ingredients
Larch Heartwood (Larix spp.) extract, Rosella (Hibiscus sabdariffa) flower extract, Green Lady Finger Banana resistant starch, Vegan Glucosamine HCI (Corn derived), Cocao (Theobroma cacao) fruit powder, Nutmeg (Myristica fragrans) powders, Ceylon Cinnamon (Cinnamomum verum) bark extract, Schisandra (Schisandra chinensis) berry extract, Pomegranate (Punica granatum) fruit peel and pericarp extract, Broccoli (Brassica oleracea var, italica) sprout powder, Black Cherry (Prunus serotina) fruit extract, Ginger (Zingiber officinale) root powder, Rosemary (Rosmarinus officinalis) leaf extract, Apple (Malusdo-mestica) peel extract, Cranberry (Vaccinium macrocarpon) berry extract, Daikon Radish (Raphanus satvia) fruit powder, Kale (Brassica oleracea Linnaeus) leaf and sprout powder, Barley (Hordeum vulgare) sprout powder, Acai (Euterpe oleracea) berry extract, Rice (Oryza sativa) extract, Stevia rebaudiana.
ATP Science Gutright Directions
Kick Start Program: Take 5g (1 flat scoop) of Gutright mixed into water, juice, smoothie, Noway protein powder or honey 3 times daily with meals for 10 days.
Maintenance Program: Take 5g (1 flat scoop) of Gutright mixed into water, juice, smoothie Noway protein powder or honey daily.
Storage
Keep in cool dry place out of direct sunlight. Store below 30°C.