Hit your weight loss goals with the new formula, more potent EHP Labs Oxyshred Hardcore.
Are you looking for the ultimate weight loss supplement that not only burns a HUGE amount of fat but also enhances your mood and dramatically increases your exercise performance? Oxyshred Hardcore is ABSOLUTELY for you.
The powerful fat burner is the "hardcore" more advanced version of the popular Oxyshred from EHP Labs. It packs several research-backed ingredients that have amazing benefits for weight loss. Be it the ultimate energy booster caffeine or the ultra-powerful fat burner evodiamine, each element of Oxyshred Hardcore is carefully selected to aid an amazing weight loss transformation.
Not to forget, the B vitamins, vitamin C, vitamin D and minerals such as iron, calcium, and chromium synergistically work together to keep your immune system functioning well and your mental and cognitive function at the highest level.
Available in the awesome taste of Grape Bubblegum flavor, Oxyshred Hardcore does not include carbs, sugars, cholesterol, trans fat, and sodium.
Achieve the body you desire, razor-sharp focus, and enhanced mental and cognitive function with the NEW Oxyshred Hardcore.
Oxyshred Hardcore Key Features include:
Powerful fat burning ingredients with amazing results
Increases thermogenesis (core body temperature increase)
Improves focus and mood
Gives high and long-lasting surging energy kicks with a generous 250 mg of caffeine per serving
Reduces overall fatigue and improves sports performance
Naturally strengthens and enhances your immune function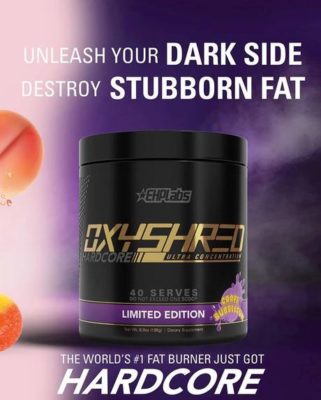 Oxyshred Hardcore Key Ingredients
Evodiamine: This brand new fat burner is native to China and Korea. It has a long history of use in Traditional Chinese Medicine (TCM). Research has shown that evodiamine helps prevent diet-induced obesity by blocking the formation of fat cells. Moreover, evodiamine also improves the action of insulin and helps maintain healthy blood glucose levels.
Huperzia Serrata extract powder: Huperzia Serrata extract is obtained from club moss, and extract blocks the activity of an enzyme that degrades a brain chemical called acetylcholine. Numerous clinical trials have found that huperzia is a potent neuroprotective substance. It improves mental functions and prevents the death of brain cells.
Acetyl L-Carnitine: This amino acid derivative is revered for its mood-boosting properties. Such effects may be comparable to some prescription anti-depressants. Besides, acetyl L-Carnitine boosts metabolism and increases exercise performance.
Taurine: It is an amino acid with powerful antioxidant activities. It protects cells from oxidative damages during intense exercises. Taking it before a workout ensures a rapid recovery.