The latest product from Mad Creations is here, the Keto NoNut Wrap Mix is set to excite many of you I am sure.
This incredible keto nut free wrap mix is not only low in carb, but it is an entirely nut free wrap. Oh, and yes, we also have a keto vegan wrap mix option. Yay!
Our mission with our collaboration with Keto Eats Australia is to bring out the best and cleanest keto products we can. I would love to have a range of products that meet a lot of keto dietary needs.
Just like our Keto Soft Wrap Mix our Nonut wrap product is incredibly versatile and easy to make and use. Use the mix to make wraps, dumplings, pastry, pie shells and so much more.
DAIRY FREE – GLUTEN FREE – GRAIN FREE – KETO – VEGAN KETO – VEGETARIAN – LOW CARB – NO ADDED SUGAR – NUT FREE – SUGAR FREE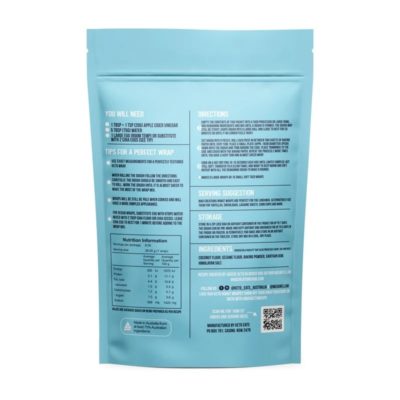 Frequently Asked Questions
Q.Can I mix the dough in the Thermomix?
A.You most certainly can! Simply add all the ingredients to the mixer and mix 20-30 sec/speed 4. Scrape the dough out onto a silicone mat and roll into a smooth ball. The dough should be soft and supple and not sticky. Cut into portions before rolling out and leave the mixture to rest for 20 minutes.
Q.How do I make my wraps vegan?
A.To make our keto wraps vegan it just takes a couple of chia eggs. What is a chia egg? A chia egg is simply made with chia and water. For the whole packet combine 2 tablespoons of chia seeds or chia flour and 6 tablespoons of water. Leave this mixture to rest for 1-2 minutes before mixing well with the rest of the packet. Halve the amount if only making half a packet.
Q.Can I make half a packet instead of the whole packet?
A.Yes, you can. Simply weigh out a whole egg whisk and half the egg into half of the mixture. Combine and make as per the package instructions with no other changes. Use the remaining egg in another recipe.
Q.How do I roll out the wraps?
A.Cut the wrap dough into small portions. For a medium-sized wrap I break into 8 equal balls of dough. Press the dough between 2 pieces of baking paper on a silicone mat. I always use Glad Bake as it never sticks to my doughs. Press the dough out and using a rolling pin, roll until very thin, almost see through, about 1mm. Using a small plate, about 19cm, cut the shape of the wrap. Remove excess dough and add it back to the remaining dough. Cover with the wrap with the baking paper and roll a couple more time until the wrap is very thin and almost sheer. Repeat with remaining dough to cut out all the wraps.
Q.What is the best way to cook them?
A.Using a crepe pan or large frying pan fry the wraps over low-medium heat for 10 seconds each side or until just sealed and lightly blistered (but not brown). The more you just seal the wrap rather than fry it the softer the wrap. You will feel the difference when frying. You are striving for a deliciously soft wrap.
Q.Can I make a couple and keep the dough in the fridge?
A.You absolutely can! Just roll out what you need and cover the dough in cling film and pop back into the fridge or freezer. If storing in the fridge, make sure you use it within 5 days.