Max's High Protein Pancakes make a delicious muscle building meal in just a few minutes. Simply add water or milk, shake and cook – what could be easier!?
Over 40 grams of high quality muscle building protein in each serve
Over 40 grams of mass building carbs in each serve
The perfect mass building snack at any time of day or night
Max's High Protein Pancakes are the perfect snack for any serious trainer looking to put on massive slabs of muscle. Easy to prepare and and delicious, these pancakes will be your new favorite muscle building snack.
What's in these fantastic pancakes?
Whey Protein Concentrate (WPC) is a medium digesting speed protein with superb amino acid content in addition to immune enhancing properties and some important growth factors.
Soy protein isolate is a highly refined and purified soy protein with less protein amount. Mainly used to increase muscle mass and enhance your performance and recovery.
Whey Protein Isolate (WPI) is the purest form of whey protein as it has 90 percent of protein in it and with a little to no fat content. It is needed for muscle repair and energy production.
Egg white protein is stacked with protein and amino acids such as arginine, histidine, isoleucine, leucine, lysine, methionine, phenylalanine, threonine, tryptophan, and valine.
Glutamine peptides are bonded to other amino acids to increase the stability of glutamine in the body. Its role is to improve muscle and soft tissue repair after exercise, injury or even surgery.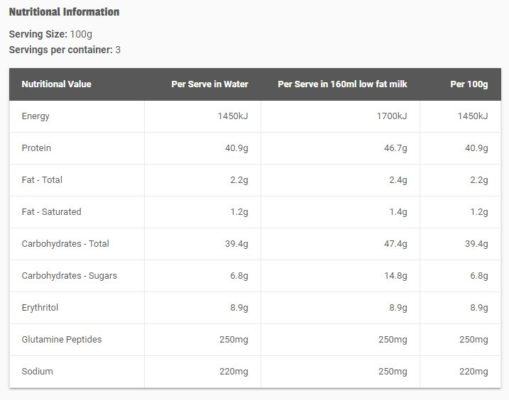 DIRECTIONS
Add 100 to 140 ml water or 160 ml milk to a shaker and shake vigorously for 30 seconds. Allow to stand for two minutes. Pour into a lightly greased low heat pan and cook until golden brown. Makes up to four high protein pancakes.