CLEN-516 is a cutting agent and fat burner with metabolism boosting and lipotropic properties.
In chillies and red peppers there are a range of capsaicinoids that are responsible for the pungent effect; these include capsaicin, dihydrocapsaicin, nordihydrocapsaicin, and trace amounts of other compounds. Capsaicinoids are well investigated, with over 1000 participants and over 90 clinical studies displaying their thermogenic properties, metabolic rate increase, and fat oxidation increasing properties. Capsaicin is the superior capsaicinoid*.
What CLEN-516 Does:
Increases metabolism by up to 8% [1] Burns at least 120 calories extra a day [1] Increases fat oxidation [1] [2] Reduces fat mass
Induces thermogenesis
Reduces hunger [1] [2] Increases satiety [1] [2] Doesn't increase heart rate or cause stimulation [1] Increases energy expenditure
Specifications:
1000μg/Capsule | two Capsules/day | 2000μg/day
Serving Size:
One capsule twice daily | one month supply
Serve one capsule three times a day for optimal dosing.
Formulation/Ingredients:
CLEN-516 contains capsaicin (8-methyl-n-vanillyl-trans-6-nonenamide) in a proprietary blend.
The active compound is isolated from red chilli peppers.
Property Blend:
Capsaicin stimulates the release of catecholamines from the adrenal glands. Catecholamine efficacy is dependent on β-adrenergic receptor activity. APO Compounds' propriety blend contains a monoterpene isolated from thyme to induce β-adrenergic receptors. This monoterpene also agonises GABA-A receptors and causes Valium-like effects. So in our proprietary blend we have isolated lactone terpenes from Ginkgo Biloba to act as competitive GABA-A antoginsers to counter this effect. Truely the perfect synergy.
Capsaicinoids In Order Of Strength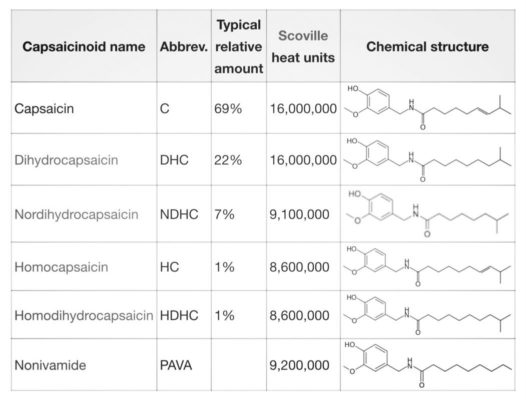 Resting Energy Expenditure Of 2000ug Capsaicinoids/Day

Increases resting metabolic rate by 120kcal/day
Increases metabolism by 8%
References
Deng, Y., Chen, F., Forzani, E. & Juturu, V. 2017. Capsaicinoids Enhance Metabolic Rate in Normal Healthy Individuals using a Novel Metabolic Tracker Breezing Device-An Open Label Placebo Controlled Acute Study. Obesity: Open Access, 3(2). DOI: 10.16966/2380-5528.129
Ludy, M. J., Moore, G. E. & Mattes, R. D. 2011. The Effects of Capsaicin and Capsiate on Energy Balance: Critical Review and Meta-analyses of Studies in Humans. Chemical Senses, 37( 2), pp. 103-121. DOI: 10.1093/chemse/bjr100