Ecobud Gentoo – Water Jug (Glass Body) Filtered, fresh Life Water in your fridge every day. Use this fabulous filtration system indoors or outdoors, and get great tasting water without the unwanted extras.
Forget boiling, elaborate filtration systems or the need for electricity. Enjoy purified drinking water quickly from your fridge day and night. The Gentoo eliminates chlorine, contaminants and bacteria and up to 98% of fluoride from your water, leaving you with a cup of liquid health.
Benefits:
Alkaline water pH 8.0 – 8.5
Removes chlorine
Removes up to 98% fluoride
BPA Free
Filter replacement indicator
3 month filter replacement
Indoor and outdoor use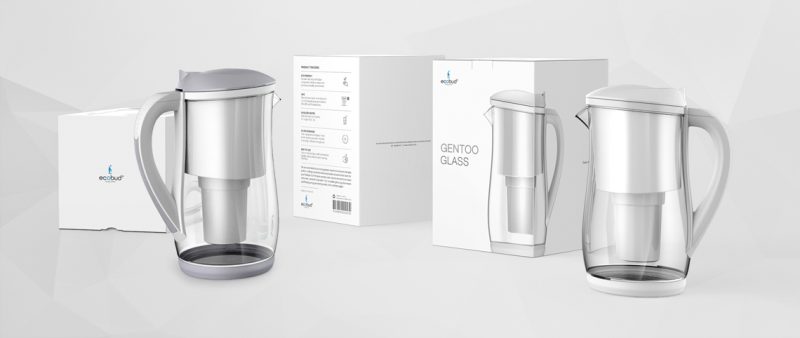 PRODUCT FEATURES – 6 STAGES OF FILTRATION
Fine Top Mesh / PPF Filter – Pre-filtration particles like oil
Energising Ceramic – Infra-red stone (4-14 electromagnetic wave) capable of releasing a high level of energy into the water by vibrating, breaking up and realigning, making the molecules smaller (from 13-20 to 5-6 per cluster), more orderly lined and easier to absorb.
Activated Carbon – Higher absorption to effectively filters chemicals, bacteria and organic pollutants, helps deodorise
Kinetic Degradation Fluxion (KDF) – Removes pollutants like algae, fungus, chlorine and radioactive heavy metals, prevents bacteria growth
Calcium Ionised Clay & Ion exchange – Releases activated calcium ions and mild alkaline (pH 8.0 – 8.5) suitable for consumption and body absorption. Activated Alumina removes fluoride.
Bottom Mesh / PPF Filter – Prevents particle release
Holds 1.5 litres!
Simply Add Tap Water and GO!