THERMOVEX by EvoChem Nutrition is an advanced, high-energy, thermogenic formula containing L-Carnitine, Alpha-GPC, Dynamine™, Advantra Z©, a host of potent B vitamins, as well as other proven thermogenic ingredients. Plus, it delivers 8g of fiber per serving! Most take THERMOVEX™ 30 minutes prior to hitting their workout session. However, it can also be taken as a morning pick-me-up! Just swap your morning cup of Joe with THERMOVEX™ and get fired up for your day, whether you've got hectic back-to-back meetings or you're running the kids to school, soccer practice, and goodness knows where else!
Ideal for Men and Women!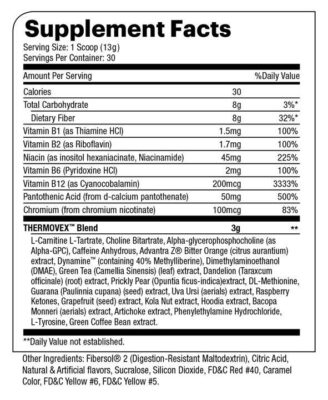 SUGGESTED USE:
As a dietary supplement, mix 1 scoop in 10–12oz of water. Can be taken 30 minutes before breakfast or morning exercise and/or 30 minutes before lunch.