The all new Snickers HiProtein Powder by Mars Inc is a 100% Whey protein powder that has all the flavour of the traditional mars bar but is made using three different forms of whey protein. It's healthier, it tastes great and is awesome for people who have a sweet tooth!
It's basically the liquid form of the Snickers bar which tastes amazing and has set new levels in protein bar taste. It's also a low calorie option and contains BCAAs which are ideal for muscle building and maintenance. With 21g of protein per serving, it also delivers a substantial protein kick that will help you hit your daily protein requirements
Snickers HiProtein Powder tastes great as you would expect from one of the world's most popular confectionery brands. If you like the Snickers Protein Bars you will love this one.
Snickers HiProtein Powder will set a new benchmark in protein shakes.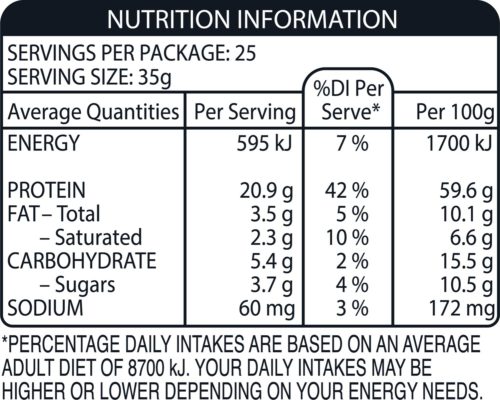 Ingredients:
WHEY [MILK] protein concentrate (MILK), whole MILK powder, fat reduced cocoa powder, flavourings, chicory root fibre, refined coconut oil, BARLEY malt extract, thickeners (xanthan gum, guar gum), sweeteners (acesulfame K, sucralose)
Allergen Statement: May contain traces of EGGS, SOYbeans, sulphites. Contains GLUTEN.