Our modern world is saturated with processed foods & ingredients, it is a daily challenge to identify 'healthy' food options. At Third Wave Nutrition® we pride ourselves in being a transparent brand with the highest internal quality standards surpassing typical synthetic products with unnecessary processing & artificial additives.
No artificial ingredients
100% vegan, 100% organic, 0% additives
Naturally gluten & dairy free
No flow aids or pressing aids
High in fibre & protein
Our highly concentrated nutrient rich GREENS blend provides YOU with a wide spectrum of nutrients from natures purest green powders containing Phytonutrients, vitamins and minerals ESSENTIAL for daily bodily functions.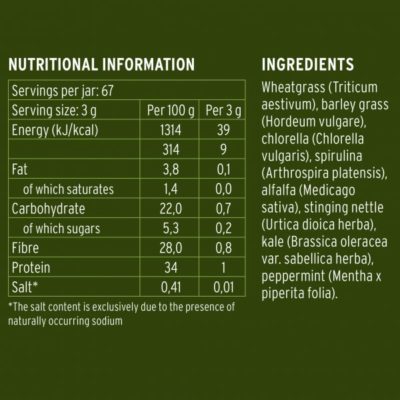 Go GREEN with Third Wave Nutrition Plantforce Organic Greens and reap the benefits.
Dosage
We recommend a dosage of 2-4 tsp. per day. It can be mixed into water, freshly squeezed juices or add it to your delicious smoothie. The recommended dose should not be exceeded. Pregnant women and children under 1 year old should only consume the product if agreed with a healthcare professional or doctor. Nutritional supplements should not replace a healthy and varied diet.
Storage
Store in a cool, dark, dry place away from direct sunlight and heat. Consume within 2 months of opening. Ensure jar is resealed correctly after use. Keep out of reach of children.